CHINA Now
        JAPAN World War II
I've been watching China for a while (Eastern and South China Sea  and The Study Of War – Is It Coming?) and the one thing you learn about the Chinese "Culture" is that they take the "long view" of what the World should look like. This has been espicially evident in how the Chinese Communist Party has slowly been making inroads along multiple fronts over the past several decades. Instead of the "here and now" of our "Culture" theirs is "later and in 5 years". Unfortunately, I think we are reaching a point in time where China will have to act on its Worldview faster than they wish.
What caused the change?
Although it will probably never be proved one way or the other, it is my belief that it is a engineered bioweapon virus that escaped from the Wuhan lab before it was completely ready for use – hence no useable Chinese vaccine for it. The original SARS from 2003 also started in China and is too similiar to today's SARS-Cov-2 not to be related in some way. In 2003, the "bush" meat found in and consumed as delicacies in China's markets was linked to the original SARS virus – Civet Cats – as was almost everykind of "bush" meat was held responsible for SARS-CoV-2 initially – or at least that's what the World was led to believe by the Chinese Government. The Chinese Government claims that it has ended the selling of "bush" meat, but it still continues. The question is "Why does it still continue" if they, the Chinese Government, believes "bush" meat to be the cause of SARS and SARS-Cov-2? Maybe they know where it is from and it's not the Bats, snakes and so on they blamed it on so why do away with "Delicacies" they love?
So China, going on it's "Long View" of how it wants the World to run, is suddenly facing severe backlash over it's handling of SARS-CoV-2.  Massive "Loss of Face" and prestige. Plus, the World is taking a closer look at how China is operating and the World isn't liking what it finally sees. Just a few of the MANY articles appearing in the Press.
Don't Be Fooled by China's Mask Diplomacy |

RAND

 
THE MEANING OF SYSTEMIC RIVALRY: EUROPE AND CHINA BEYOND THE


PANDEMIC – Andrew Small –

European Council on Foreign Relations

 
The End of Europe's Chinese Dream |

European Council on Foreign Relations

– 
COVID-19 Deception by China Heralds New Era of Global Scrutiny |

Mercatus Center
It has been actually quite surprising to see how far China has gotten over the past 8 years in dominating the political side of its ambitions – the side that was politically expediate for  many Countries in the World to ignore for material or political gain. 

This article shows how far the Chinese have gone in Europe over the past several years and how they are using their  "New Silk Road" or "One Belt, One Road" as a means to an end
China: Das Reich der Mitte kauft sich zerstrittenes Europa – (Will Europe Become Chinopa?) – FOCUS Online 
Quotes computer translated from German in the article above
"Policemen from the Middle Kingdom go on patrol in European cities, state corporations are on a shopping spree in key industries. In the Corona crisis, China's hunger for power is more threatening than ever. Can the divided Europe resist Far Eastern imperialism?"
"China's leaders are driven by fears that the Communist Party could collapse, as it once did in the Soviet Union. It is downright paranoid about Western influences, says Mikko Huotari, head of the Mercator Foundation for China Studies in Berlin. influences such as Western journalism and democracy. China's all-powerful leader, Xi Jinping, believes that its own model, which includes total digital surveillance of society, is superior. Appropriately, the party-affiliated Academy of Social Sciences has just provided a theoretical substructure: the philosopher Zhao Tingyang promotes a new world order in his book "Everything Under Heaven", in which imperialism, democracy and pseudo-likeness of the UN should end. Instead, a well-meaning hegemon is supposed to bring peace to the world. Who that should be – there is no doubt about that. China's rise, Zhao believes, is in the interest of the whole world."

The main routes of the "New Silk Road" From FOCUS. Online
Now, I never knew the extent of China's inroads into European society. Chinese Police Officers walking a beat in Belgrade? 
Australia's thoughts about the One Belt, One Road idea of China – from

July 23,2019
China's Belt and Road Initiative: What the $1 trillion project is all about
The plan for China's "One belt, one road" initiative.Source:Supplied
Quotes from the article:
"Not being perceived as a 'threat' is something that the Chinese are very conscious about so they're really trying to package it that way, saying 'we're investing in infrastructure' giving you the financing and helping with construction. It's hard to say 'no' to that," she said.
Others have been less diplomatic. China expert Tom Miller told the BBC parts of it could be described as a "giant bribe" in which China promises investment in exchange for political concessions. He also raised the prospect of poor countries like Laos being stripped of their natural resources in exchange for $7 billion in railway investment, for example.
"How is Laos going to pay this back? In practice it's going to pay it back with natural resources," he said. "This railway could metaphorically become a conveyor belt for exporting valuable natural resources out of the country to China."
See below in Natural Resources
What does Austraila think today?
'
Urgent' China warning claims Australia needs alliance with US
China's Belt and Road Initiative, its island grabbing in the South China Sea, military force in the Taiwan Strait, its annexation of Hong Kong's legal system and the recent clashes at the border with Indian forces reveal a menacing strategy for regional control, the centre said.
"While the United States has been largely distracted during COVID-19 with its own domestic concerns, China has taken advantage of an uncertain regional situation to advance its expansive geopolitical interests in key flashpoints across the Indo-Pacific," the centre's director of foreign policy and defence Ashley Townshend told news.com.au.
Western Expansion by way of the Belt and Road Initiative:
So

me of the articles that are appearing showing the "Westward" steps China is taking to bring Chinese dominance over the World.
Kazakhstan protests Chinese article for territorial claims

–

UPI
Russian Military Seeking to Counter Growing Chinese Role in Central Asia –

Jamestown

– 
And don't forget the more military focused "South and Eastward" expansion
Eastern and South China Sea
Who Guards the 'Maritime Silk Road'? – War on the Rocks

Veneer of China's Charm Offensive Cracked By Vietnamese Fishing Boat          Incident

–

USNI News

– from 04/ 09 –

posted 04/26/20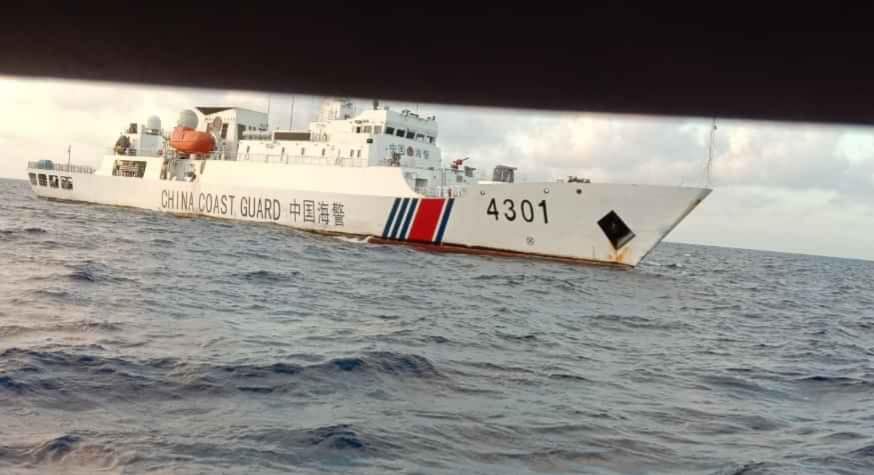 China Coast Guard Cutter taken by Vietnamese fishermen. Photo via South China Sea News
China And Malaysia Clash In Highly Disputed South China Sea

|

OilPrice.com

–   from 04/17 –

posted 04/26/20
As Jakarta trims defence, Beijing makes waves in the South China Sea

| The Interpreter –

posted 05/19/20
Chinese ship leaves Malaysian waters after month-long South China Sea standoff –

Reuters

–

posted 05/15/20
And just recently
Chinese Military Could Be in Reach of Hawaii After Kiribati Election

–

Foreign Policy

–

posted 06/19/20
America bled for these Island during WWII. Remember the

Cuban Missles Crisis

? Makes you think about the old saying about the past repeating itself.
Result:
Kiribati's pro-China leader wins re-election in blow to Taiwan – Nikkei Asian Review –

posted 06/23/20
This just touches on how China is trying to set up it's policy of  "
Who that should be – there is no doubt about that. China's rise, Zhao believes, is in the interest of the whole world."
Where else is China active?
Africa
I've known that China has been active in Africa for years, if not decades, but the following two articles were a surprise.
China's Palace Diplomacy in Africa – War on the Rocks
Government Buildings in Africa Are a Likely Vector for Chinese Spying
South America/Latin America
Southcom chief: 4 ways China is growing influence in Latin America –

Business Insider

–

12/18/19
China's Belt & Road Initiative And South America –

Silk Road Briefing

–

posted 03/24/20
Trump, China and Latin America: The US is Losing the Soft Power War –

OPEU

–

posted 06/24/20
And even:
The Artic
China, Russia, and Arctic Geopolitics – The Diplomat –

posted 03/28/20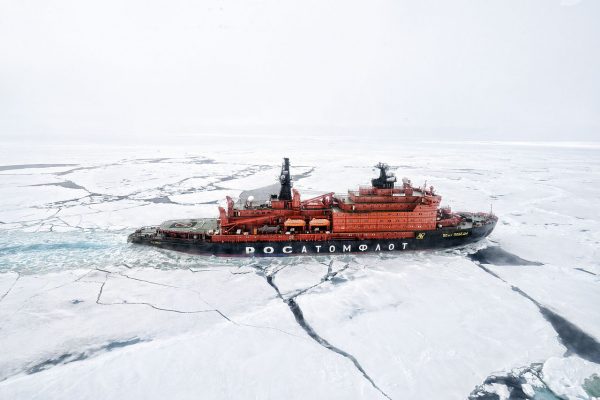 Looking Beyond China: Asian Actors in the Russian Arctic (Part Two) – Jamestown – posted 05/15/20
US awakens to risk of China-Russia alliance in the Arctic –

Nikkei Asian Review

–

posted 05/24/20
The Asian Tigers in Russia's Arctic: Unforeseen Favorites? –

Jamestown

–

posted 05/26/20
So, basically, China is spreading it's influence throughout the World. On to the next –
Natural Resources
What else are they doing to bring about their dominance in the world? How about controlling or trying to control all of the resources that are needed by the United States and other Countries to continue economic growth. Think about it for a while – if China (or any Country) controls the resources necessary to make the latest cell phones consumers want that Country controls the market – or the world.
Just think – "You can't have your new cell phones until you give me the State of Florida" – people would do it. That's power!
I first talked about how China (and Russia) are trying to gain contol of the World's natural resources in my post of May 8th – The Upcoming Battle Over Resources
These are some of the articles mentioned there and on my page Eastern and South China Sea
Two Chinese Firms Blocked From Australia's Rare Earth Sector –

Reuters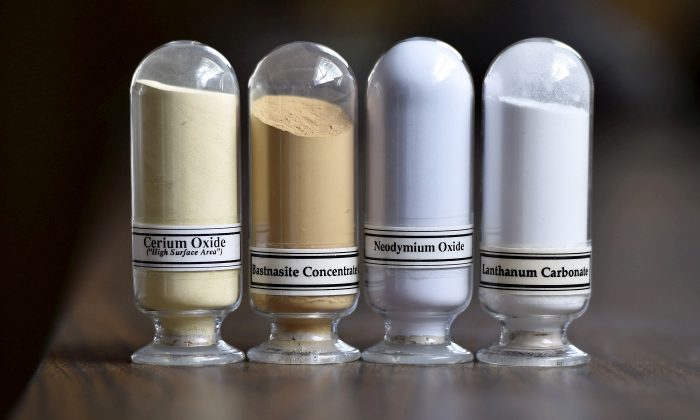 Samples of rare earth minerals from left: Cerium oxide, Bastnaesite, Neodymium oxide and Lanthanum carbonate at Molycorp's Mountain Pass Rare Earth facility in Mountain Pass, California. U.S. on June 29, 2015. David Becker/Reuters)
The Critical Metal Trump Is Desperate To Secure |

OilPrice.com –

 
Batteries and hydrogen technology: keys for a clean energy future – Analysis –

IEA

 
Clean energy progress after the Covid-19 crisis will need reliable supplies of critical minerals – Analysis –

IEA

 
IEA: These Minerals Are Essential For The Energy Transition |

OilPrice.com

 
Texas fears losing oil-rich lands in Chinese takeover of weakened energy companies |

Fox Business 
China Is Dominating the World's Steel Industry. That Poses a Threat to U.S. and European Security. –

Foreign Policy 
U.S. Struggles to End Reliance on Rare-Earth Minerals From China –

Foreign Policy
Ottawa to scrutinize Chinese acquisition of gold miner as Huawei case reaches crucial stage |

Vancouver Sun

  
Just a few – there are many more examples out there
So now I've talked about China's "Long view" for dominance of the World with politics, resources and economics and about how I now believe that Wuhan/Covid-19/SARS-Cov-2 has forced China into a much shorter timeframe. You can't be subtle – "making use of clever and indirect methods to achieve something" – anymore if everyone is mad at you for inflicting a mass casualty event on the whole world. Everyone will want their "pound of flesh" from you.
Now say you are President Xi Jinping of China and all of your plans have just fallen apart on you. You are the head of a Country that believes its destiny is to rule the world – the "Middle Kingdom". The system you govern is fragile and there are enemies inside and outside the system who would love to see you fail. You have a massive ego, as most politicians do, and your ego just took a massive hit. The most common way to force political change in your system is still the 9mm to the head. What are you to do?
Military
Studies
The Influence of Seapower upon China |

Proceedings

– August 2019 Vol. 145/8/1,398
China Naval Modernization: Implications for U.S. Navy Capabilities—Background and Issues for Congress Updated August 30, 2019


Congressional Research Servic

e https://crsreports.congress.gov RL33153
U.S.-China Strategic Competition in South and East China Seas:

Background and Issues for Congress

Updated November 26, 2019 – 

posted 12/28/19
China's Modernizing Military |

Council on Foreign Relations

–

posted 02/07/20
Military and Security Developments Involving the People's Republic of China 2019 –   ANNUAL REPORT TO CONGRESS –  Department of Defense    

posted 04/24/20
China Naval Modernization: Implications for U.S. Navy Capabilities—

Background and Issues for Congres

s Updated April 24, 2020 –

posted 04/25/20
Report to Congress on Chinese Naval Modernization –

USNI News

–

posted 04/28/20
China Naval Modernization: Implications for U.S. Navy Capabilities — Background and Issues for Congress Updated May 21, 2020 –

posted 05/22/20
China develops weapons to fry US electric grid, eyes high-tech 'Pearl Harbor' attack –

Washington Examiner

–

posted 06/18/20
So, while trying to expand it's political and economical influences around the world, China is also modernizing, expanding and growing its military might. 
Now, we know that China has been using its Military to expand its control in the 

Eastern and South China Sea.  – been doing this for a number of years now. Taiwan is still a political target and they would love to take it back but any kind of invasion of Taiwan would bring the U.S. into it. The rest of the areas in the region are all about control of vital movement areas or natural resources.
We know that China is active in most of the world politically and buying up resources or buying controlling interests in resources.
We know that China believes it is "The MIddle Kingdom" and is supposed to control the World – 

China's rise, Zhao believes, is in the interest of the whole world."
(from above article)
We know that the

Wuhan/Covid-19/SARS-Cov-2

has severely damaged China's reputation, political influence and world-wide standing. Almost everyone in the World is looking at China in a different light since the epidemic started and the pulling back from China's influence is starting to hurt. Add a variety of economic pain caused by the epidemic (China's Oil Industry Is In Crisis |

OilPrice.com

– posted 06/22/20

as an example

)

and China could find itself in deep trouble. 
Can Xi Jinping survive the blow 

Wuhan/Covid-19/SARS-Cov-2

has caused to China? Can China survive the "loss of face", the loss of political power in the World and the distrust of China caused by the epidemic?
So what does China do? What power does it still have?
Military
I've been very surprised that China hasn't acted along military lines for several weeks now. The rest of the Southern and Eastern China Sea Countries are on alert now for possible moves from the Chinese Military. The U.S., Australia, Japan and other powers are making moves to shore up their power in the area and Taiwan, which has been preparing for a Chinese Invasion for decades, has heightened its defenses. The Chinese can't wait much longer if they want to keep what they've claimed. So what have they done and who is alarmed by it?
China flexes maritime muscles in East China Sea –

news.com.au

–

posted 06/22/20
Amid pandemic, SE Asian nations warn of 'alarming' South China Sea incidents –

Reuters

–

posted 06/26/20
Chinese Navy Submarines Could Become A Reality In Indian Ocean –

Forbes

–

posted 06/26/20
This will be the flashpoint – The trouble in India – China/India
When China goes into India – with Nepal or Pakistan being the possible instigator – it's going to be the start of the Chineses move everywhere.