February 26, 2021
So I've been watching the Artic closely for a number of years now and have told many people to watch what is going on up there. With the recent election and change in Administrations, you know that the new administration will get tested and one of those places is probably going to be the Artic. Biden is not Trump and, as long as Alaska is not threatened, he's probably not going to do anything about it as it will take attention away from his agenda.
On top of the political turmoil in Washington, D.C., February has shown a marked increase in the sheer number of studies and articles about the situation in the Artic, so it makes me think that something is getting ready to pop up North – Russia and China won't wait to long to make their move becauses the elections coming up in 2022 could drastically change the Biden agenda.
Today this appears:

File photo of a U.S. Air Force B-1B. In the box, the Barents Sea.
As you can tell from the map insert, this is right in Russia's backyard and you know they aren't happy about it.
Russia has issues right now and Putin is going to have to do something if he wants to stay in power and the "Classic" scenario is some kind of "adventurism" to stoke up the public support. Plus he would have China's backing (quietly) as they too have designs on the Artic. China would probably welcome such a move because it would give them the opportunity to make a strategic move – probably something in the South Pacific along their "9 Dash Line".
Just keep an eye open and don't be surprised. Keep an eye on my page at: Doc's Study of War – Watch The Artic
____________________________________________________________________________________________
Backgound on Russia and China in the Artic – mostly from this month!

The top Russian oilman says his company's three far northern finds were world's biggest in 2020. The international green shift will not hamper field development, he told President Putin.
Map: Barents Observer / Google map
From the article: "The Barents Observer is not aware of any similar sailings with larger Russian warships so close to Norway's maritime border in the Varanger fjord anytime in post-Soviet history. Normally, the Northern Fleet's vessels are sailing north of the Fishermen Peninsula on voyages to and from the western part of the Barents Sea."

From: Northern Sea Route, Penyelesai Masalah "Malacca Dilemma" (Northern Sea Route, Malacca Dilemma) – Defence Security Asia – posted 02/03/21:  https://defencesecurityasia.com/5057-2-northern-sea-route-malacca-dilemma-berita/ 
_________________________________________________________________________________________
HOW IS EUROPE VIEWING WHAT IS GOING ON IN THE ARTIC?
Näin Ruotsi ja Suomi taistelisivat venäläisiä vastaan – Ruotsin johto esittelee avoimesti maiden yhteistä puolustusta –

Translation

– How Sweden and Finland would fight the Russians – Swedish leadership openly presents their common defence –
Iltalehti

–

posted 02/16/21

Forsvarssjef Eirik Kristoffersen: – Dialog kan føre til løsninger – High North News – posted 02/18/21 – Translation – Chief of Defence Eirik Kristoffersen: – Dialogue can lead to solutions: Forsvarssjef Eirik Kristoffersen: – Dialog kan føre til løsninger (highnorthnews.com)
The Report: 
Conflict Prevention and Security Cooperation in the Arctic Region
Frameworks of the Future  by Walter Berbrick and Lars Saunes, Project Directors
September 2020
_______________________________________________________________________________________________________________
HOW IS THE UNITED STATES VIEWING WHAT IS GOING ON IN THE ARTIC?
Reports and Strategies
Coast Guard Artic Strategic Outlook –

April 2019:  

https://documentcloud.adobe.com/link/track?  uri=urn%3Aaaid%3Ascds%3AUS%3Ab491be72-101b-46d8-83ce-625575a06b4c
THE DEPARTMENT OF THE AIR FORCE ARCTIC STRATEGY –

posted 07/21/20
ENSURING A STABLE ARCTIC THROUGH VIGILANCE, POWER PROJECTION, COOPERATION, AND PREPARATION
DEPARTMENT OF THE NAVY A Strategic Blueprint for the Arctic – posted 01/06/21: https://documentcloud.adobe.com/link/track?uri=urn:aaid:scds:US:a6478fd4-5a21-447e-97e3-641ea2450553#pageNum=
"What we do know though is that what happens in the Arctic has a gullible impact because the region really is at a crossroads of geopolitical, economic, and even security trends.  There's economic potential because of the abundance of natural resources now with the ice melting the promise of opening maritime routes. Russia, for example, is investing heavily to improve its economic sectors along the northern coast, and at the same time, they're militarizing the northern flank. China is in the Arctic as well, trying to expand their economic influence, and we see them positioning themselves to expand their military influence as well." 
"The Arctic is changing, which is why it's a discussion point and a critical juncture.  The U.S. is an Arctic nation and the Navy has been up there for quite a while. 
"I would just like to say, for the Record, [that] they [China] are not an Arctic Nation.  They're 900 nautical miles from the Arctic Circle, although they have an Arctic Policy Document where they refer to themselves as a near-Arctic nation, but they are not."
KEFLAVIK, Iceland (Nov. 16, 2019) A P-8A Poseidon maritime patrol and reconnaissance aircraft assigned to both Patrol Squadron (VP) 4 and VP-26 is parked on the apron of Keflavik Air Base. VP-4 is forward deployed to the U.S. 6th Fleet area of operations and is assigned to Commander, Task Force 67, responsible for tactical control of deployed maritime patrol and reconnaissance squadrons throughout Europe and Africa. (U.S. Navy photo by Mass Communication Specialist 2nd Class Juan S. Sua/Released)
____________________________________________________________________________________________
U.S. Force Preparations
Marine Corps Fielding New Cold Weather Boot in 2021 – MilitarySpot.com – posted 12/01/20: Marine Corps Fielding New Cold Weather Boot in 2021 – MilitarySpot.com
New U.S. Arctic strategy focuses on 'day-to-day competition' with Russia and China | The Independent Barents Observer –

posted 02/08/21:

  h

ttps://thebarentsobserver.com/en/security/2021/01/new-us-arctic-strategy-focuses-day-day-competition-russia-and-china
Photo by Lance Cpl. Patrick King
From the article –
"Slack said MDSU 2 hasn't specifically been given instructions from higher up in the Navy to prepare for any specific Arctic missions or training, but he said it's clear what direction the Navy is going in, and MDSU 2 is among the support units the Navy would rely on if a mission were to suddenly arise.
This year's iteration of the annual ice diving training has special significance "to be sure that if we do get called upon, that the Navy divers clear the way for the U.S. naval forces and stand ready to conduct these diving and salvage operations in any environment."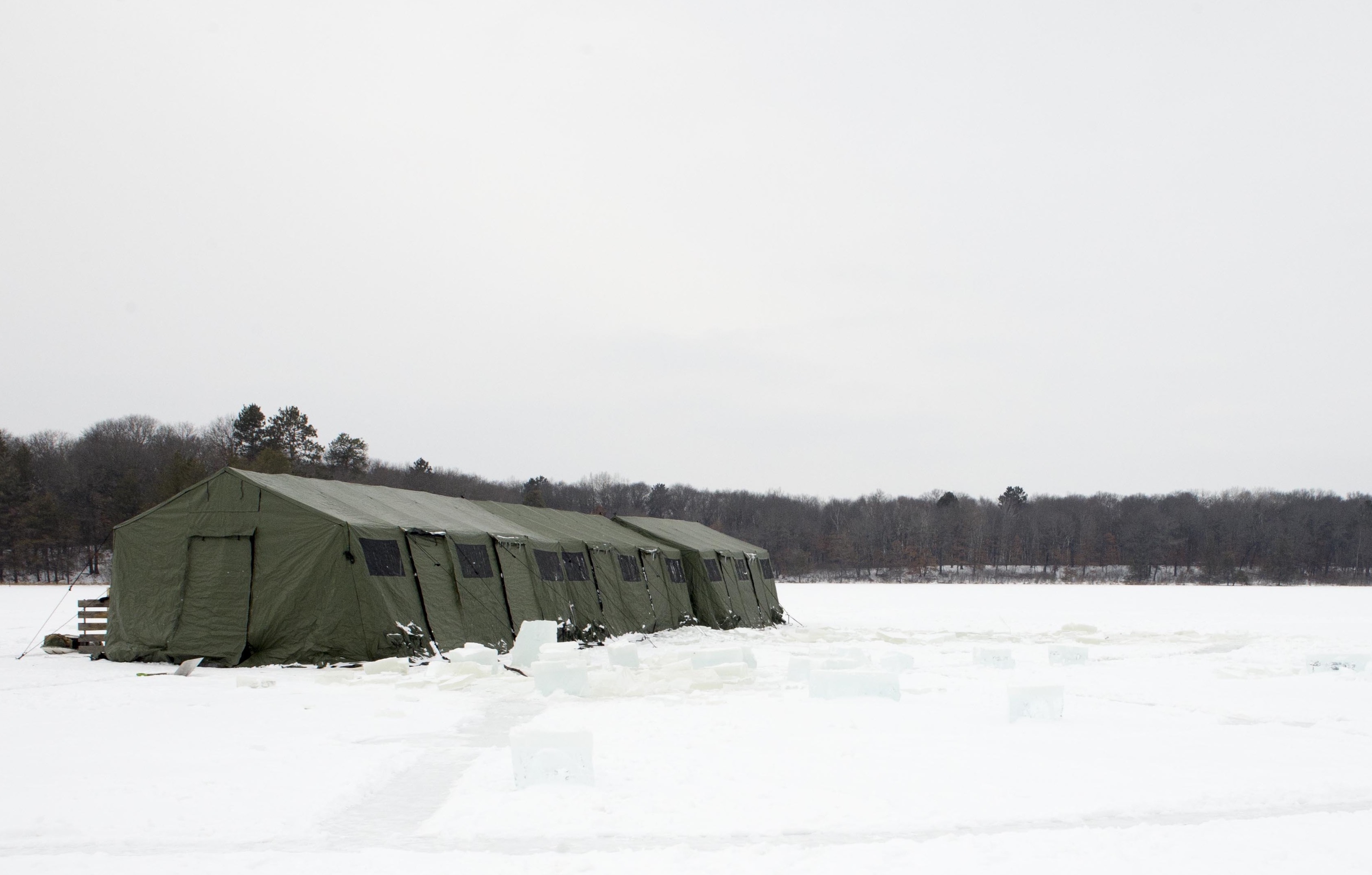 A diving tent is set up on frozen lake during ice dive training at Camp Ripley in Little Falls, Minn., Feb. 16, 2021. US Navy Photo