Interesting article appeared in Radio Free Europe on March 30, 2021. While I've been watching Russia in the Artic, my main concern over the past several weeks is China and I've been waiting for them to make a move.  Russia and China have become Buddy-Buddy recently (hard to believe that it wil last) and with our obviously weakened political structure here in America, it's only a matter of time before someone makes a move.
NATO Warplanes Scrambled Amid 'Unusual Peak' In Russian Air Activity – Radio Free Europe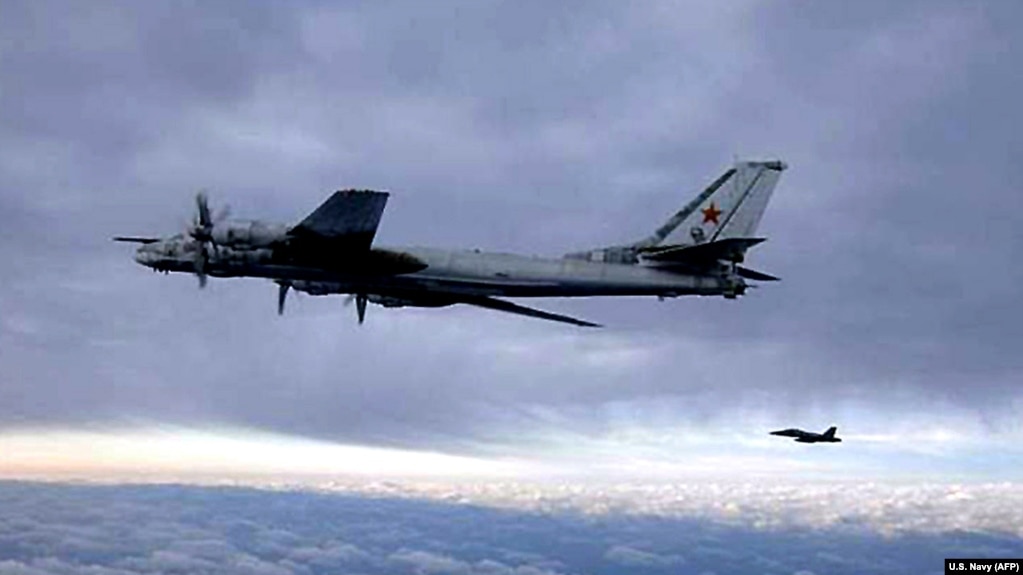 In one of the March 29 incidents, Norwegian F-16 jets intercepted Russian Tu-95 Bear bombers, which continued to fly south over the North Sea. (file photo)
The next day, March 31, 2021, an anti-Russian group called Inform Napalm published this article:
To occupy Lithuania within 24 hours? However, even 24 days won't be enough for this: it'll be a long, fierce, and bloody clash. –
Inform Napalm
Lithuania? Why the sudden interest there?
Then I remembered what occurred in Belarus last year with Lukashenko and the election turmoil. One of the moves Lukashenko made during the turmoil was to close Belarus' borders with Lithuania, Poland and Ukraine – made a lot of people nervous.
That same day, reports started coming in about a lerge scale buildup of Russian forces on it's border with Ukraine – which would take a great deal of time to discuss the Crimean and so on.
Kyiv: Russia is amassing troops on Ukrainian border –

UA Wire
Now for the past 2 days, the reports are coming in constantly about Russian Troop movements in the area.
US military raises Europe threat level to 'potential imminent crisis:' report

|

American Military News
Russian Armor Floods Toward Border With Ukraine Amid Fears Of An "Imminent Crisis" –
The Drive
Russia confirms deployment of its troops near Ukrainian border –

DefenseBlog
Russia says any attempt to start a new war in Donbass could destroy Ukraine –

TASS | Reuters
Russian 'troop build-up' near Ukraine alarms Nato –

BBC News
Kremlin says military movements near Ukraine are defensive, pose no threat | Reuters
Now on itself, one could say that all of this was bluster by Russia – they want something. Then this story caught my eye:
Belarus deploys troops to border with Ukraine –

DefenseBlog
No one else seems to have picked up on that side of the story, but Lukashenko owes Russia for his remaining in power in Belarus so this might be his payback time
Russia (Putin) has more than enough to really take Ukraine back into the old U.S.S.R – something Putin has talked about recently:
UAWire

– Putin sends warning to those living on 'historic Russian lands' –

posted 03/19/21
So why would he need Belarus to, at the least, appear threatening to Ukraine? Only to send a message to others in "Historic Russian Lands" that the "Bear" is coming.
There is also a lot of Russian air and naval activity in Eastern Siberia and around Alaska at the moment – good decoy activity.
It is my belief that one little spark – ie. Ukraine – could lead to the major confrontations that some of us are expecting. China will not sit still if Russia draws U.S. attention and the present Administration will not be up to the task.
Just my belief.